A Piece of the Pie is a series of
20 sculptures in found metal and glass that examines the expansion of world consumption in a form that compares current statistical patterns to those of up to 50 years ago.
My interest in global patterns led to the creation of Invasive Species (2000-01), an installation in metal, glass, wood and seed that illustrates the mass extinction of species and the evolution of our natural environments. As a follow up to this work, A Piece of the Pie will further my study through the creation of a series that identifies the wasteful use of resources, labour and capital and the consequential strains on the standard of living and the environment.

Each sculpture employs the imagery of opposing pie charts--- as to display and compare the statistical differences spanning the last 50 years. Variables explored include: the consumption of natural resources; industrial output; population growth; food production; and pollution. The frames are constructed in two parts, fabricated from the circular metal lids of discarded hot water heaters. Each half has an interior framework that defines a specific pie chart; with each piece of the pie differentiated by a unique pattern of assemblage. When the two halves are connected, the result is a dynamic composition in metal and glass of the pattern in study. Details and sources of each study are identified in a subtitle.
This series will plainly display an increase in our consumption. While this is not ground breaking news, and the statistics will be subject to differing interpretations, I hope to engage the viewer in an examination of the patterns and effects our consumption has on the environment; and the inequality of its distribution.
---
---Catalogue available---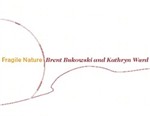 for Fragile Nature exhibition
Essay by Virginia Eichhorn,
Curator, Canadian Clay & Glass Gallery


A Piece of the Pie
PAGE 1 2 3 4 5

CLICK IMAGE TO ENLARGE AND VIEW DATA




1955
World Population
2005





CLICK IMAGE TO ENLARGE AND VIEW DATA


1960
Petroleum Consumption
2002



CLICK IMAGE TO ENLARGE AND VIEW DATA

1950
Water Consumption
2000


CLICK IMAGE TO ENLARGE AND VIEW DATA

Calories, Proteins and Fats 1961-2002


PAGE 1 2 3 4 5