The Hop Across---A public sculpture inspired by a bicycle jump sequence that honours the Salton Bridge as a corridor of active transportation---constructed using hundreds of reclaimed aluminum bicycle rims assembled in an arrangement that hops, skips and jumps across the internal combustion beneath.
Brent Bukowski 2018
The Salton Cyclist/Pedestrian Bridge spans the Trans Canada Highway, linking the University of the Fraser Valley with the City of Abbotsford's core. Construction commenced November 2017 and the grand opening celebration was held in January 2019.
The bridge was constructed on the ground in the median, and on October 21, 2018, the highway was closed and the bridge was lifted into place.
The following video by David Lavallee documents the lift: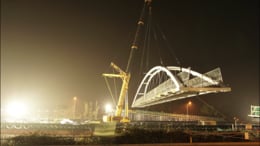 SALTON BRIDGE LIFT VIDEO

ACKNOWLEDGEMENTS:
The City of Abbotsford for this exciting public art opportunity and the valued support of their staff members---Allyson Friesen, Lisa Pryce and Jan Loots.
Public Art Consultant extraordinaire Lynne Werker.
Structural Engineer Don Willems
EffiStruc Consulting Inc.
Eli Bukowski, David Collis, Terry Brennan, Rebecca Nolan, Celeste Harvey, Mike and Susan Van Dyke.
Pedal Power, Our Community Bikes, Pedal On Bikes (W.4th), Boomtown.